FEMS
FENECON energy management system
Intel­li­gence for the ener­gy transition
Sector coupling.
Grid services. Online monitoring.
FEMS increa­ses the poten­ti­al of your bat­tery ener­gy sto­rage sys­tem and enables the intel­li­gent inte­gra­ti­on of PV sys­tems, e-char­ging sta­ti­ons, heat pumps, and other con­troll­able consumers.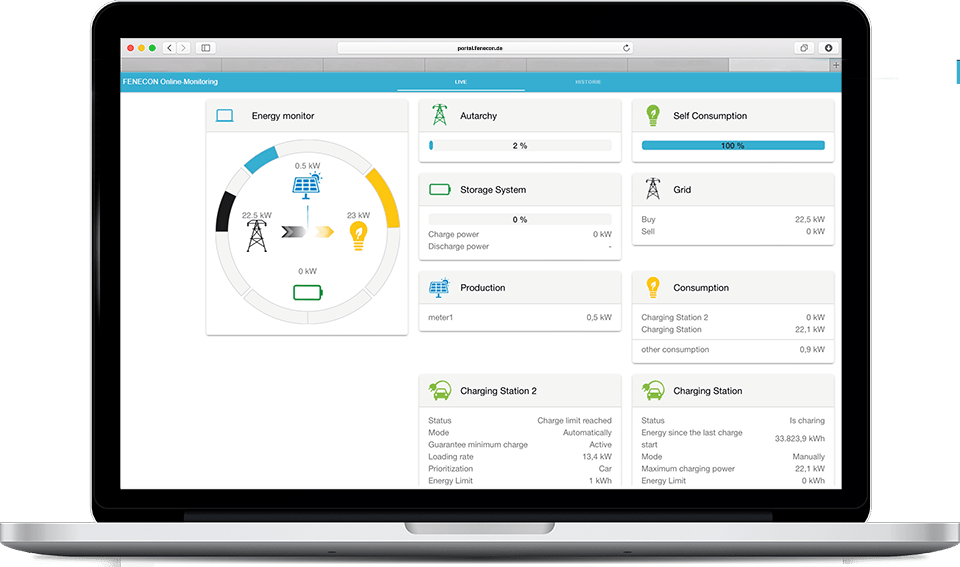 Intelligent and open source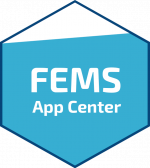 Easy installation of energy management apps
FEMS apps are important buil­ding blocks of the future ener­gy world, whe­re users can adapt their FENECON ener­gy sto­rage sys­tem accor­ding to their indi­vi­du­al needs.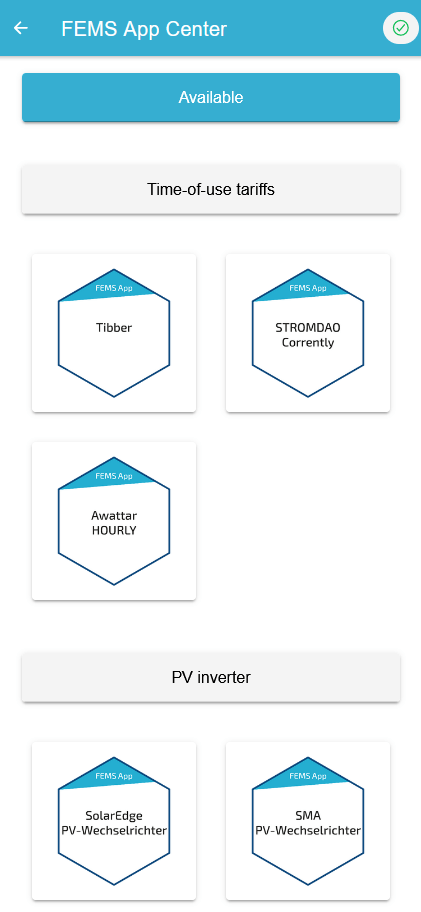 "Ener­gy is being pro­du­ced during the day and con­su­med at night" - this is the con­ven­tio­nal use case sce­na­rio for bat­tery ener­gy sto­rage sys­tems and the first step towards your per­so­nal ener­gy tran­si­ti­on. This effec­tively saves elec­tri­ci­ty costs.
Com­bi­ne a PV-sys­tem and a bat­tery ener­gy sto­rage sys­tem and you alre­a­dy have vary­ing elec­tri­ci­ty pri­ces during the day. Acti­ve ener­gy manage­ment allows you to dyna­mi­cal­ly con­trol gene­ra­tors and loads (e.g., CHP, e-car, heat pump, or hea­ting ele­ment) to redu­ce over­all cos­ts and avo­id peak loads.
Generator and load control
The char­ging of elec­tric cars requi­res a lot of elec­tri­cal power. The inte­gra­ti­on into ener­gy manage­ment and thus the intel­li­gent sec­tor cou­pling of elec­tri­ci­ty and mobi­li­ty is both eco­no­mic­al­ly inte­res­t­ing and an acti­ve con­tri­bu­ti­on to envi­ron­men­tal pro­tec­tion and CO2-neu­tral mobi­li­ty. The app solu­ti­ons for e-mobi­li­ty are modu­lar so that they grow with your requirements.
Get your pri­va­te char­ging infra­struc­tu­re grant now and bene­fit from the advan­ta­ges of FEMS.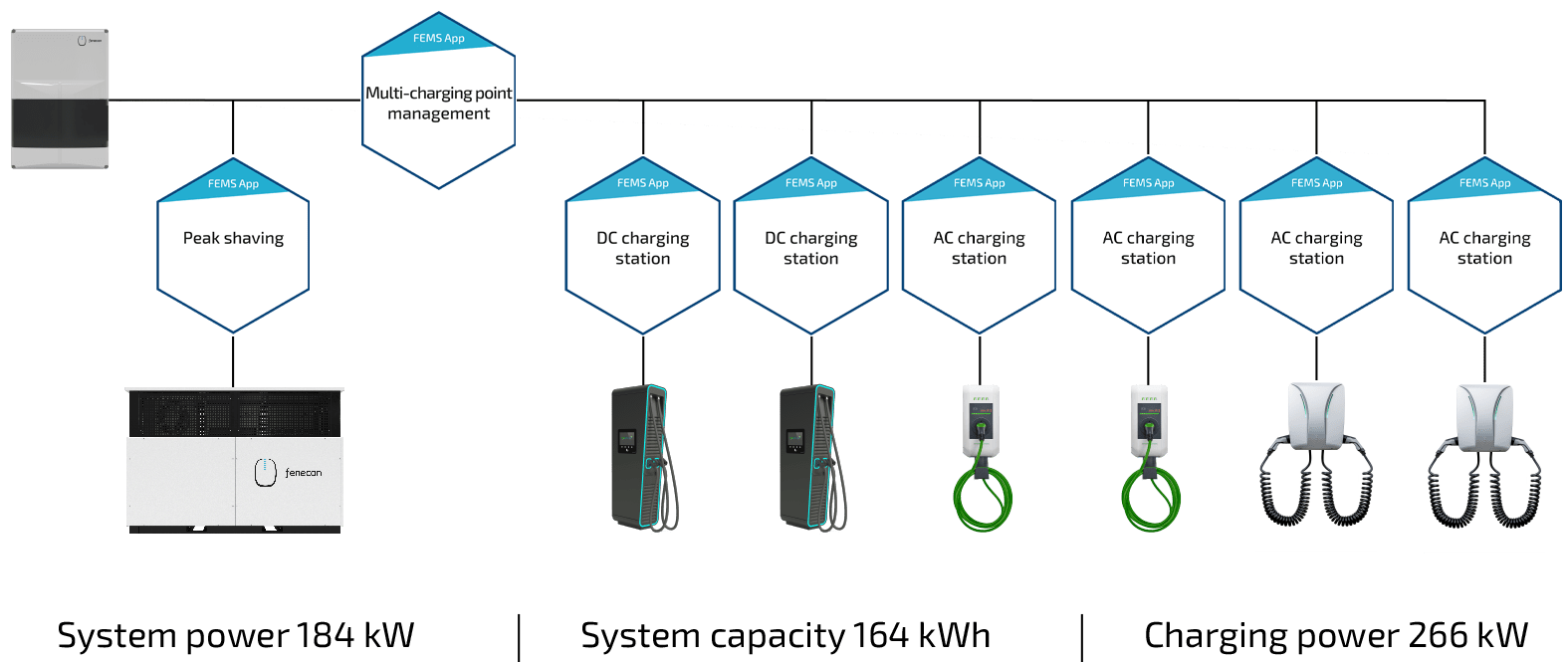 To opti­mal­ly con­nect the con­trol of mul­ti­ple char­ging sta­ti­ons, you will find the appro­pria­te apps here:
Peak shaving and atypical grid usage
Elec­tri­ci­ty pro­duc­tion from rene­wa­bles such as solar and wind is fluc­tua­ting. This is why the need for grid sta­bi­liza­ti­on is incre­asing as the ener­gy tran­si­ti­on pro­gres­ses. In char­ge of grid sta­bi­li­ty, elec­tri­ci­ty sto­rage can earn money and con­tri­bu­te to the 100% ener­gy tran­si­ti­on. The decisi­ve fac­tor is the per­for­mance of the sys­tems, i.e. the char­ging and dischar­ging capa­ci­ty of the bat­tery inverter.
Time-flexible electricity tariffs
Smart par­ti­ci­pa­ti­on in ener­gy mar­kets can bene­fit from low or nega­ti­ve exch­an­ge elec­tri­ci­ty pri­ces, as well as regio­nal and peer-2-peer elec­tri­ci­ty mar­ke­ting models.
Sur­plus wind power is no lon­ger unu­sed, but ends up in the decen­tra­li­zed sto­rage faci­li­ties of the par­ti­ci­pan­ts. Elec­tri­ci­ty mar­ke­ting in accordance with the EEG also takes place via this con­nec­tion. We expect that in the future all rele­vant uti­li­ties will offer their pro­sumer cus­to­mers with sto­rage sys­tems attrac­ti­ve models inclu­ding sto­rage usage.
We have recei­ved num­e­rous awards for our ener­gy part­ner model, which makes the sto­rage faci­li­ties fit for the­se offers.
Integration of generators, consumers, PV inverters and energy meters
For most ener­gy manage­ment appli­ca­ti­ons, only the mea­su­re­ment at the grid con­nec­tion point is requi­red. For the pro­per dis­play of ener­gy flows in the online moni­to­ring and fore­cast-based use cases, all gene­ra­tors must be mea­su­red to ensu­re a cor­rect con­sump­ti­on fore­cast. Sel­ec­ted ener­gy meters for pro­duc­tion and con­sump­ti­on moni­to­ring, as well as PV inver­ters, can be inte­gra­ted direct­ly into the ener­gy envi­ron­ment via our FEMS apps.
The online moni­to­ring offers a real-time over­view of the system.
Note: Inte­gra­ti­on of mul­ti­ple PV inver­ters requi­res one FEMS app each.
FEMS fits per­fect­ly into your exis­ting infra­struc­tu­re. Whe­ther grid con­trol cen­ter or smart home, you can fur­ther pro­cess the data from FEMS via the exten­si­ve, open interfaces.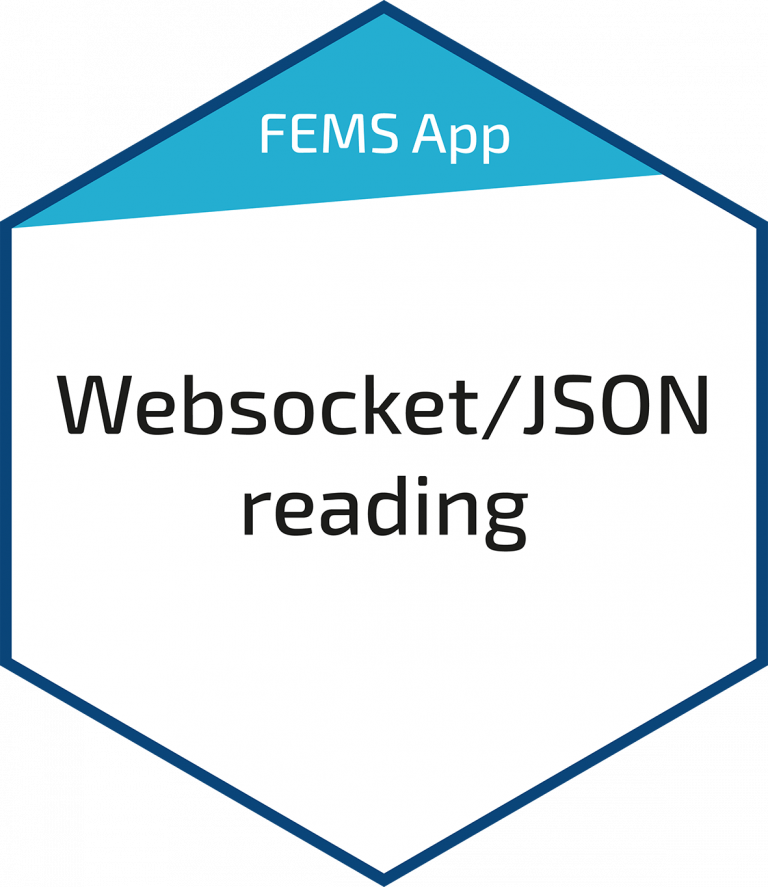 Stan­dard-
Scope of delivery
You recei­ve the FEMS con­nec­tion box tog­e­ther with your FENECON ener­gy sto­rage sys­tem. With the FEMS relay board you can intel­li­gent­ly con­trol up to eight con­su­mers - e.g. SG-Rea­dy heat pump or hea­ting ele­ment - via relay contacts.